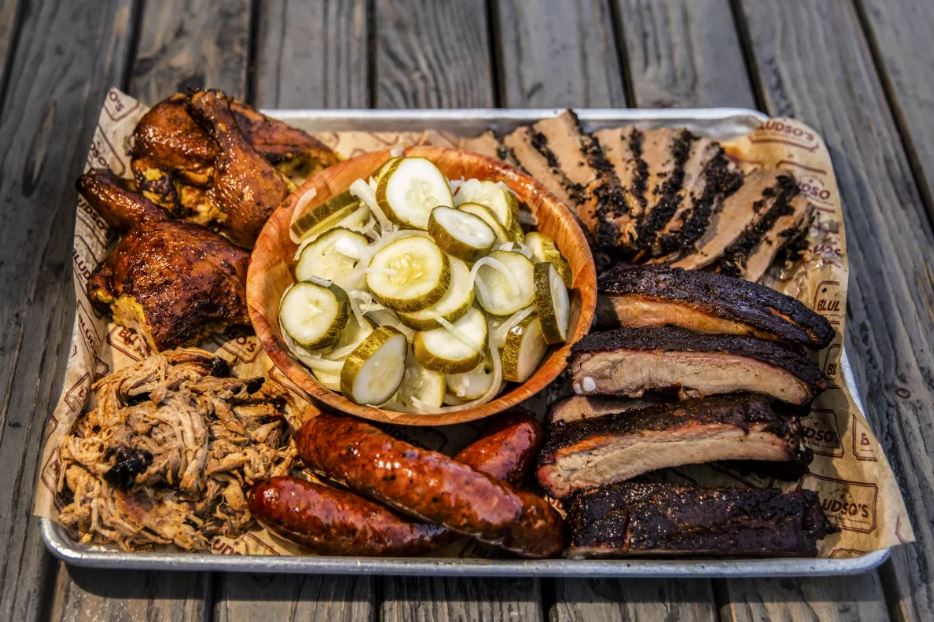 Originally Published in the LA Times on June 22, 2023
Story written by Bill Addison & Danielle Dorsey
Barbecue is the epitome of American food — a style of cooking, with myriad regional variations, built on Indigenous traditions, perfected over centuries (particularly, in Los Angeles, by Black cooks who arrived from the South during the Great Migration) and continuously evolving through immigrant influences and individual creativity. No one set of flavors will ever define our national palate, but a whole lot of us certainly take pleasure in the nexus of meat, fat, smoke, char, salt, pepper and, if you include sauce, sweetness and vinegary tang.
Does L.A. have a modern barbecue style? Contemporary pitmasters stand on the shoulders of forerunners like Woody Phillips, a Louisiana native who opened his first restaurant, Woody's Bar-B-Que, in Hyde Park in 1975. In the new millennium, the outsize popularity of central Texas-style smoked meats, led by Austin's Aaron Franklin, has deeply influenced the American palate, including ours: Brisket is omnipresent, and many of the most ardent barbecue chefs began by refining their skills in their backyards.
Having mastered the methodologies, though, the new generation of pros takes flavors in novel, successful directions that reflect Southern California and its fundamental communities, including Mexican, Korean and Southeast Asian.
Our finest pitmasters these days don't often commit right away to restaurant leases, either. Enthusiasts keep track of them through pop-ups, Instagram posts and Smorgasburg events. These are a dozen of our very favorites, but if you love barbecue, stay alert: You never know when the next smoked-meat artists will make their way into your social media feeds.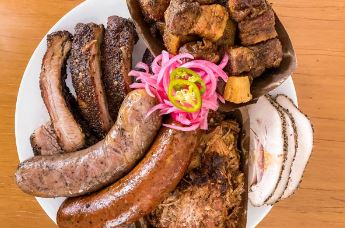 A's BBQ
East Los Angeles |
Barbecue |
$$
From under a tent set up for frequent pop-ups in his driveway, on a hilltop in East L.A. with a panoramic city view, Alan Cruz grafts Texas smoking traditions and Mexican flavors to his own inner tune. He has us all humming along with pork belly burnt ends rubbed with al pastor-style seasonings and paired with pineapple for tart-sweetness; spare ribs glazed with tamarind; sausage variations inspired by chile relleno or birria; and a textbook custardy brisket that needs nothing more than salt and copious black pepper. He follows his family recipe for cochinita pibil, which pairs with barbecue seamlessly. Lately Cruz has been experimenting with his cooking, holding pop-ups that center on fried chicken and New York-style chopped cheese. But he promises plenty of barbecue this summer.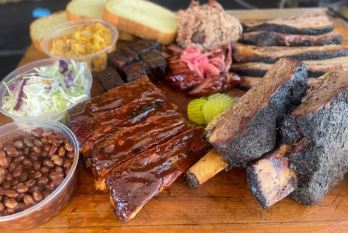 Beatdown BBQ
East Los Angeles |
Barbecue |
$$
Jason Selva's East L.A. pop-up began in 2020. An instructor in mixed martial arts who previously worked in restaurants, he first sold barbecue as a fundraiser to help his students purchase gear. As demand continued, he's maintained a frequent pop-up schedule and also landed a gig as a barbecue vendor at the Coliseum. His mix is ideal for gatherings, with classic meats (brisket, pork ribs scented with pecan and cherry woods, pepper-crusted beef ribs) and sides of apple-cider coleslaw and potatoes given the mac-and-cheese treatment. Let's all lobby him to put his smoked birria de res in frequent rotation.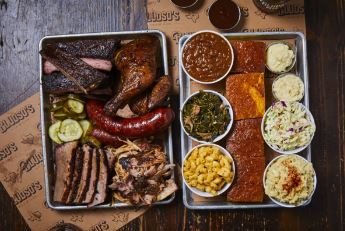 Bludso's BBQ
Fairfax |
Barbecue |
Soul Food |
$$
You can't talk about barbecue in L.A. without talking about Bludso's. Pitmaster Kevin Bludso learned the craft from his aunt Willie Mae Fields, who ran a BBQ stand in Corsicana, Texas, and opened his first location in Compton in 2008. He's since become a global figure, appearing as a recurring judge of Netflix's "Barbecue Showdown" and, with Noah Galuten, publishing the James Beard Award-winning "Bludso's BBQ Cookbook." Although the original walk-up stand is no longer open, a La Brea location opened in 2013 with a bar, plenty of indoor seating, TVs that regularly stream live sports and a patio, and a Santa Monica outpost is coming soon. You can't go wrong with any of the meats that are, true to Texas style, smoked low and slow for 14 hours, but for first-timers, tender, fatty, juicy brisket is a must, as well as gargantuan and appropriately named Dinosaur beef ribs (running $29 each). Mac and cheese is gooey and creamy with baked-crisp corners; collard greens act as the perfect vinegary counterbalance; and cornbread is moist and not too dense, just how you want it. Mild and spicy barbecue sauce comes on the side for pouring over your selections. A full bar is available, including creative cocktails, draft beer and wines by the glass or bottle.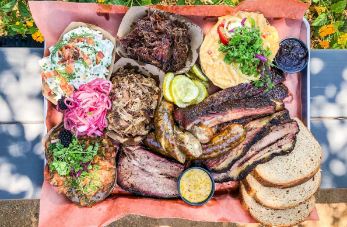 Heritage Barbecue
San Juan Capistrano |
Barbecue |
$$
Expect the future of barbecue in California to look and taste much like the cross-cultural connectivity that pitmaster Daniel Castillo is shaping in San Juan Capistrano. Castillo looked to central Texas for mastering technique — he perfumes meats over California white oak — but his smoky arts cast a wider spell as he's settled into his talents. Wood-perfumed brisket, beef ribs and chorizo links may share the menu with pastrami or pork belly glazed in the manner of char siu; specials often veer into riffs on Hawaiian loco moco and densely constructed banh mi. Same with sides: classic barbecue accompaniments such as jalapeño cornbread beans beefed up with brisket and guajillo chiles share the table with mac and cheese amped with bacon and charred asparagus. The array changes ceaselessly, but there is one constant at Heritage: the long line, which you'll encounter no matter the time or day. Castillo and his wife, Brenda, opened a brewery with barbecue-inspired dishes half an hour down the coast in Oceanside. It's nearly as mobbed as their flagship.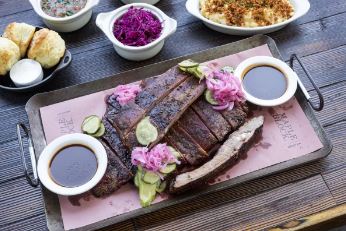 Maple Block Meat Co.
Culver City |
Barbecue |
$$
My first experience with Maple Block Meat Co. happened during the dining room shutdowns of 2020, when I ordered takeout of barbecue essentials: peppery brisket, homemade sausage with the right snap, solid pulled pork, and sides of vinegary slaw and pintos textured with brisket bark. Returning recently for a meal in its handsome Culver City dining room, lined with varied knotty woods and white subway tile, I realized I hadn't before absorbed the true scope of its menu. Chopped and kale salads; pork shoulder lettuce wraps; sides of roasted beets and crème fraîche-gilded sweet potatoes; and drinks like a smoked old-fashioned stretch the notion of a barbecue restaurant and also dilute the focus. The good news: The core smoked meats, especially deftly rendered brisket, still impress, as do the lopsided but properly tangy buttermilk biscuits.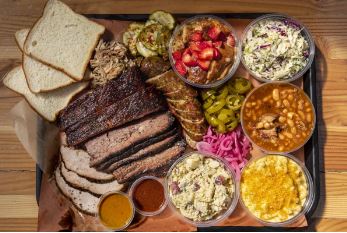 Moo's Craft Barbecue
Lincoln Heights |
Barbecue |
$$
Ranked No. 7 on The Times' current list of the 101 Best Restaurants in Los Angeles, Andrew and Michelle Muñoz's Lincoln Heights restaurant began as an underground pop-up in 2017. Business trips to Dallas over the last decade sparked Andrew's interest in smoking meats. In his East Los Angeles backyard, he taught himself to emulate the slowly blackened brisket, caked in coarse pepper and salt, that epitomizes central Texas barbecue. Matched with Michelle's sides (creamy, punchy esquites; beans seasoned with stray bits of brisket) and the sausages she perfected using flavor boosts like roasted poblanos and queso Oaxaca, Moo's Craft Barbecue made a commotion. The restaurant, with a bar that focuses on local craft beers, opened in 2022. The line from the ordering counter usually stretches through the dining room and out the door.
Texas traditions lighted the fire, but Southern California inspires the couple's respectful innovations. They'll glaze pork belly burnt ends with gochujang as a special and pull lamb shoulder in ways that evoke Lebanese recipes; the thick, campfire-scented burgers have their own cult. The Muñozes set the tone for a new school of Los Angeles barbecue.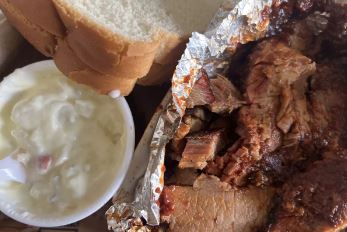 Phillips Bar-B-Que
West Adams |
Barbecue |
$
With locations in West Adams and Inglewood, Phillips is a long-running takeout stand from Foster Phillips (first cousin of Woody Phillips, who founded Woody's BBQ) that regularly draws lines on weekends, especially during the summer and on grilling holidays. Skip the wait and stop by for lunch, which offers reasonably priced "sandwiches" (i.e., a serving of meat with two slices of white bread on the side), including pork or beef ribs, chicken or beef links, rib tips, chicken or sliced beef, with a side of macaroni salad, potato salad, coleslaw or baked beans. I tend to go for the rib tips or sliced beef in the mixed barbecue sauce that balances sweetness with spice (mild and hot options also are available). Macaroni and cheese, greens and yams are available as additional sides. Ask if there's any cornbread, and if so, be sure to add it to your order.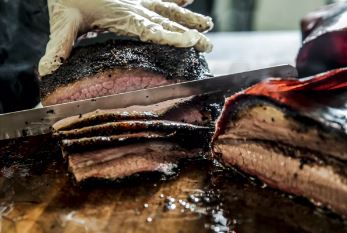 Ray's Texas BBQ
Huntington Park |
Barbecue |
$$
Ray's Texas BBQ founder Rene "Ray" Ramirez, an L.A.-area forerunner of the underground-sensation-to-bricks-and-mortar model, 
died in February 2022
, but his family has upheld his standards of excellence. Ramirez's son Sebastian now oversees the brisket, glossy and suffused with oak smoke; it remains a standout. The massive, dense barbecue burrito — layered with mac and cheese, beans, brisket and jalapeño-cheddar sausage — is basically a handheld combo platter. The dining room is tiny, with several picnic-style tables abutting stacks of oak wood, but there's a sense of camaraderie to the communal seating, and this is the kind of feast best consumed as hot and fresh as possible.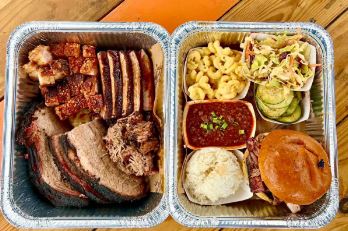 Smoke Queen Barbecue
Downtown L.A.|
Barbecue |
$$
Pitmasters with residencies at the Smorgasburg events on Sundays at Row DTLA tend to have some of the gathering's longest lines (and also often go on to great things; see Moo's Barbecue). The latest up-and-comer racing to keep up with demand is Winnie Yee-Lakhani, who found her highest calling after switching from running fast-casual franchises to barbecuing during the 2020 shutdowns. Yee-Lakhani marries exacting smoking techniques with her penchant for spice: pork belly made in the style of char siu with a caramelized varnish and scents of star anise; the musk of cumin heightening her brisket's peppered bark; a side of chile zapped with Sichuan peppercorns to evoke mapo tofu. Note the bottom of the menu signage when you reach the front of the line: Yee-Lakhani is planning to open her first location of Smoke Queen in Garden Grove. Can't wait.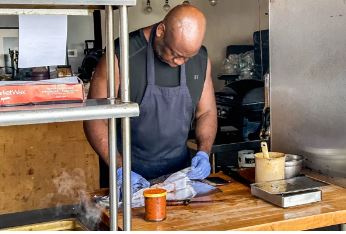 The Memphis Grill
North Hollywood |
Barbecue |
$$
Chef-owner Manu Aka concedes to local tastes with inclusions of cuts like brisket and tri-tip on the menu of his North Hollywood storefront. Heed the name of his business, though, and home in on the Tennessee-style specialties. That really means three signatures: ribs that are either dry-rubbed or mopped with a not-too-sweet tomato-based sauce (a.k.a. "wet") and a pulled pork sandwich with slaw on top. What a joy to taste true-minded Memphis barbecue in Los Angeles. Cornmeal muffins on the side taste as if they're made from Jiffy mix — and in Southern circles that's a compliment. Complete the meal with greens and potato salad or candied yams. For now Aka and his small crew operate on weekends for takeout only; it's wise to order ahead.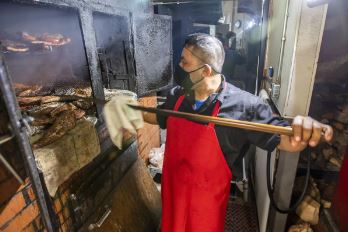 Woody's Bar-B-Que
The most popular of Woody's Bar-B-Que's three locations is the one in Inglewood off Market Street with patio seating, but my favorite is the original outpost on West Slauson that was founded by Woody Phillips in 1975. Phillips died at 78 on New Year's Eve 2019, leaving his son Roderick Phillips and cousin Foster Phillips to continue the family barbecue legacy. The Inflation Fighter lunch special is hard to beat: tender pork rib tips and half a chicken link with a side of potato salad, macaroni salad or coleslaw for less than $10. I go for the potato salad, which has chunks of not-too-mushy potato and diced veggies for a satisfying crunch. If you're feeding a group, the small party platter offers one slab of beef or pork ribs, one pound of rib tips, half a pound of sliced beef, half a pound of links and half a chicken, with a pint of potato salad and baked beans, plus 10 slices of white bread, for $79.50. You can get your meats drenched in long-simmered mild, mixed or hot barbecue sauce — I recommend the mixed for heat that won't overwhelm.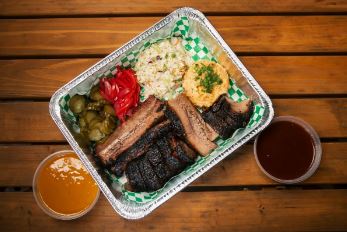 Zef BBQ
Simi Valley |
Barbecue |
$$
Logan Sandoval pinballed around the country for years in various chef roles before pandemic-era circumstances brought him and his wife, Anna Lindsey, back to Simi Valley, where he grew up. Their takeout project was born from unprecedented times but continues to thrive as a weekly pop-up. Sandoval sometimes experiments with adding barbecue to out-of-context dishes like ramen or mole, but fundamentally he focuses on the most important thing: the craftsmanship of smoked meats. Beyond lush brisket and pulled pork (the latter even better brightened with South Carolina-style mustard sauce), zero in on his tri-tip smoked over red oak and finished with a garlic-butter baste. Hawaiian-inspired macaroni salad or a calorically overpowering take on mac and cheese with corkscrew pasta? Both, honestly, with banana pudding for dessert. Follow Zef BBQ on Instagram for weekly menus — ordering typically goes live on Wednesdays — and information for Simi Valley-area pickup locations.