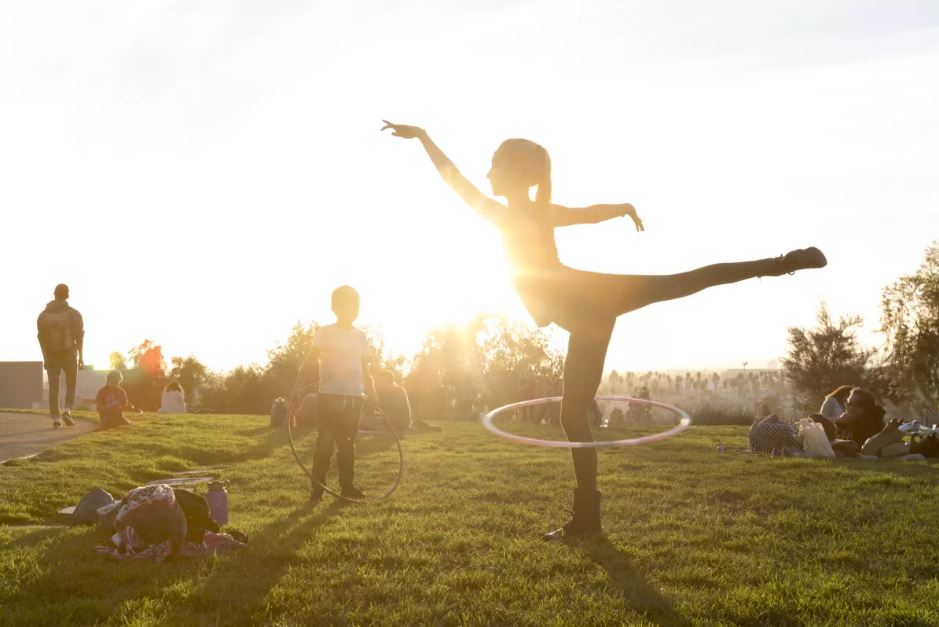 People lounge in the late-afternoon sun at Barnsdall Art Park. (Calvin B. Alagot / Los Angeles Times)
Originally published in the LA Times on June 30, 2023
BY CHRISTOPHER REYNOLDS  | STAFF WRITER
On any given day in Greater Los Angeles, in any season, the odds of picnic weather are good. And our choice of locations is vast.
So maybe we should all be eating outside more, and maybe walking and hiking more, too. With that in mind, we have gathered some prime picnic locations, most of them in parks where an easy stroll or uphill struggle might be possible. Whether you're putting your own meal together or ordering dishes to go, here's to spreading a blanket, unpacking the basket and keeping the ants at bay.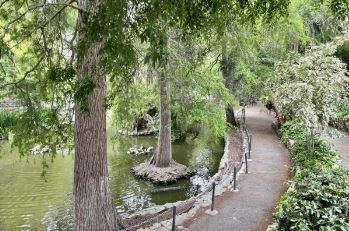 Averill Park
There's no better place for a quiet picnic than 
Averill Park
, which dates to the 1920s and is small in size — just 10 acres — but big on aesthetics. The man-made water feature in the middle flows under a stone bridge and into little pools that draw the occasional blue heron or egret. Mallards and other ducks live here full time, which makes it a magnet for little kids. You'll probably see brides, grads and 15-year-olds making their 
quinceañeras
 posing for photos in front of the little bridge. You can picnic on a hilly spot in the grass or at one of the picnic tables along the water (large groups must reserve). Open dawn to dusk.
Barnsdall Art Park
Angelenos can enjoy sweeping views of Los Angeles from the middle of a historic olive grove at East Hollywood's 
Barnsdall Art Park
.
Although the park is an excellent place to watch the sun set, it's best known as the site of Hollyhock House, a Frank Lloyd Wright masterpiece. In 2019, nearly a hundred years after the home was completed, it was named a UNESCO World Heritage Site. The house reopened to tours in 2022 after a sustained closure during the pandemic that included extensive restoration work.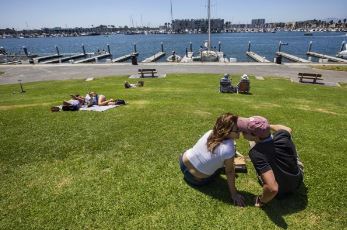 Burton Chace Park
How many parks in Los Angeles can you visit on a water bus? Ten-acre 
Burton Chace Park
 is bordered on three sides by the marina, making it an ideal waterside picnic destination. It's also been the site of many summer concerts and community movie nights. A sculpture titled "The Helmsman" stands near the water, a symbol of the area's ties to boating and the ocean. For $1, you can tap into the park's maritime traditions by boarding the 
Marina del Rey water bus
 and cruising to Fisherman's Village, Mother's Beach and other waterfront destinations. Open daily from 6 a.m. to 10 p.m.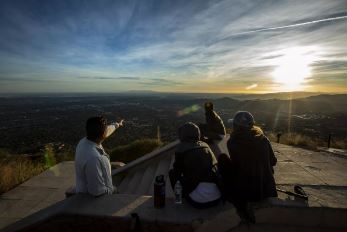 Echo Mountain
Altadena |
Mountain Trail
The trek to Echo Mountain is a favorite for good reasons. It's a quick, steep, moderately difficult route into the San Gabriel Mountains, and it gives you a chance to wander among the ruins of the Echo Mountain House hotel and Mount Lowe Railway, a once-sprawling complex of wilderness resorts and attractions that stretched deep into the mountains. The four-story hotel burned in 1900 and the railway shut down in 1938.
Nowadays the Echo Mountain hike via the Sam Merrill Trail is 5.5-mile round-trip experience (with about 1,400 feet of altitude gain) on a very popular, occasionally narrow trail. Along the way you find many historical markers, but only scattered bits of foundation and metal equipment to remind you of the sprawling operation that once was here.
There's a picnic table, but you could also eat while sitting on the steps of the old hotel. And before you descend you might want to try to use the Echo Phone, also at the mountaintop. Hiking expert Mary Forgione describes it as "a black metal megaphone mounted on a pole that points toward Castle Canyon. Yep, before there were cellphones and selfies, this is how people amused themselves. Feel free to step up and give your best scream (no touching necessary) — and listen for the reverb. It's a beautiful place to stop and look into the heart of the mountains."
The trailhead is at the end of Lake Avenue in Altadena. The trail gets hot on sunny days, so it's wise to start early in the morning, when the route is shaded and there's less foot traffic.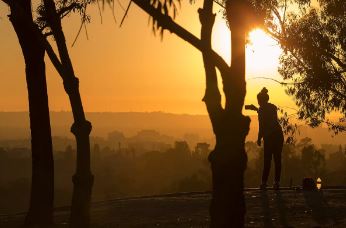 Elysian Park
The 
Chavez Ravine Arboretum
, grand in scale with about 140 types of trees from all over the world, provides ample shade for picnicking, relaxing and gathering in 
Elysian Park
, north of downtown Los Angeles. Yogis, hula dancers, churchgoers and birthday revelers congregate beneath the colorful jacaranda, Cape chestnut and tipu trees. Elysian Park offers multiple hiking trails that provide spectacular views of downtown on one side and the Los Angeles River (and the less enthralling Interstate 5) on the other. Open sunrise to sunset daily.
La Brea Tar Pits
What's not to love about a grass- and tree-filled park that surrounds two museums (Los Angeles County Museum of Art and George C. Page Museum), includes observation pits for live excavation of sites, giant statues of sloths, a heart-rending scene of a mammoth family battling a tar pit and gooey tar bubbling out of the ground? (And then there's the Academy Museum of Motion Pictures, just west of LACMA.)
Thank George Allan Hancock, who donated 23 acres of his family's ranch to Los Angeles County in 1924 for a public park that protects the tar pits — and the fossil finds trapped in them — for future generations. Today that makes for an educational walk through an urban oasis that includes lots of open space, plenty of shade trees and picnic tables, and a Pleistocene Garden that re-creates a prehistoric habitat from the Pleistocene Epoch (10,000 to 1.9 million years ago).
La Cienega Park
This vibrant, tree-dotted park
 has wide, grassy areas on both sides of La Cienega Boulevard just north of Olympic Boulevard. Its central location — and assortment of sports fields and a perimeter running/jogging track — make it an ideal place to people-watch while picnicking. Film buffs take note: On the western side of La Cienega is the Academy of Motion Picture Arts and Sciences' Margaret Herrick Library, Fairbanks Center for Motion Picture Study (333 S. La Cienega Blvd.), a treasure trove of archival material from the movie industry that's usually accessible to on-site research by the general public. Open daily from 6 a.m. to 10 p.m.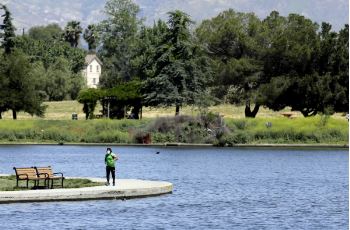 Lake Balboa Anthony C. Beilenson Park
Lake Balboa at Anthony C. Beilenson Park
 is a popular destination for families, thanks to its shady lakeside pagodas, multiple playgrounds, barbecue pits, fishing, kayaking and boating in swan-shaped pedal boats. (The ducks and geese are a big draw for kids too.) The park can be busy on the weekends, but the 1.3-mile footpath around Lake Balboa is a tranquil place for a leisurely walk or jog during the week, with or without a dog, especially when the park's cherry trees are in bloom. If you rent a boat, keep an eye out for the waterfall at the north end of the lake. Open sunrise to sunset daily.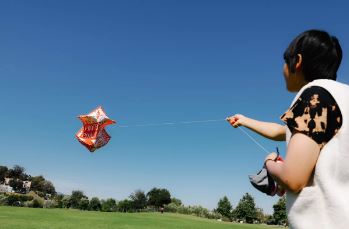 Los Angeles State Historic Park
Los Angeles State Historic Park
 contains 32 acres of trails, bike paths, art installations, plants and breathtaking views of downtown Los Angeles. Go during the day to picnic with friends and watch your fellow Angelenos fly kites or on a summer evening to watch an outdoor movie hosted by Street Food Cinema.
As the name suggests, the park's history mirrors the city's. It's about a mile from what was once Yang-Na, a Tongva trading village, and the Pueblo de Los Ángeles, where Spanish settlers founded what is now Los Angeles. There are still remnants in the park of the zanja madre, the original aqueduct that transported water from the Los Angeles River to the pueblo. Today, the park is walking distance from some of the oldest structures in the city. Open 8 a.m. to sunset.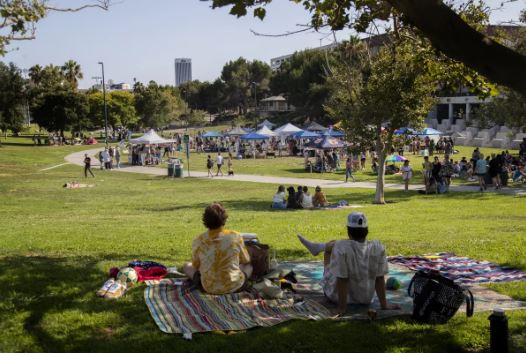 Pan Pacific Park
The park
 is bounded by Beverly Boulevard to the north and 3rd Street to the south, and most of its bowl-like landscaping means that its open grassy space is below street level, which makes for an unusually tranquil experience — especially given that the Grove shopping center is its neighbor to the west. It has wide, sloping, sidewalk-like paths, which make the park accessible to everyone, and ample picnic tables (some under pavilion-like structures) and an unusually large number of barbecue grills for an urban park. Open 5 a.m. to 10:30 p.m. daily.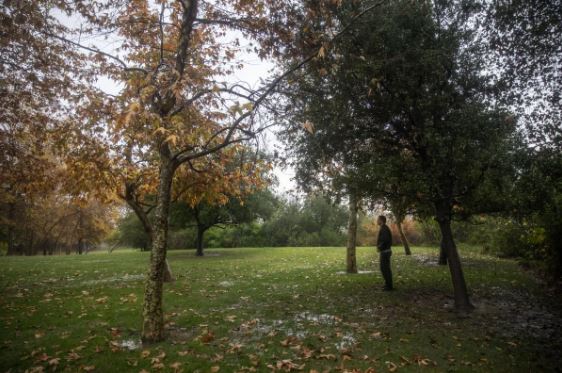 Vista Hermosa Natural Park
Vista Hermosa Park
 is one of those places in L.A. that invokes the phrase, "If you know, you know." Although it's not exactly a secret — tons of Angelenos have flocked to this shady enclave since it opened in 2008 for its views of downtown, open spaces and ample dog-watching opportunities — it feels like a hidden gem. The 10½-acre park is home to lush native California plants including fragrant sage, coyote bush and sycamore trees. Amenities include walking trails, picnic areas, playgrounds, on-site bathrooms and even a running stream. Although its most popular attraction is the lone bench facing its unobstructed view of DTLA (where you might see a marriage proposal or graduation photos being taken), this park offers so much more.